The Vertico aluminium insulated round the corner garage door is the perfect solution for larger width garages and restricted headroom.....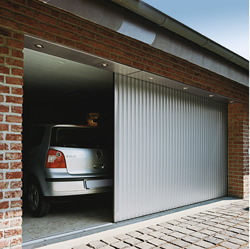 SWS are a long established company with a wealth of expertise in producing market leading insulated slatted roller door systems. With over 20 years experience in security roller shutters for windows and doors the products are exceptional.
They have now gone a step further by introducing to the UK an exceptional Round The Corner garage door system – The Vertico.
Manufactured in Germany to stringent engineering standards, the incredibly elegant Vertico provides numerous benefits.
There is very little encroachment of driving area and, with the horizontal track running arrangement, driveways are kept clear to enable maximum parking area outside of the garage. The door is constructed of the highest quality insulated aluminium slats with an exceptionally high quality powder coating.
Each garage door is made precisely to measure for every opening and it will be fitted to maximise the available width and height for convenience when entering or existing your garage.
Available in 10 standard colours the Vertico can also be finished in a further 36 Renolit woodgrain finish colours.
The Vertico garage door comes as standard with radio remote control, motor drive and electronic hindrance stop. Two programmable door opening positions enable the user to have the choice of either full opening for car access or narrower pedestrian opening width - control at the simple push of a button.
The electric motor guide channel is integrated elegantly in the wall guide channel not down the centre of the garage like other traditional motor drives.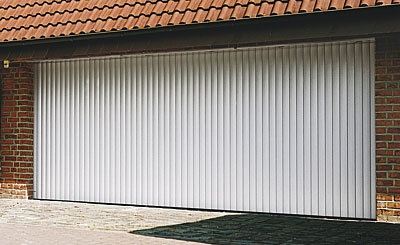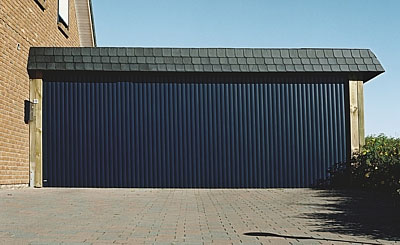 Unlike old timber round the corner systems with channel guides cut below floor level the Vertico offers a surface mounted steel raised ground rail which also acts as a weather bar - not a pebble or dirt trap
Up until recently the only garage door systems sliding round the corner were constructed from timber panels installed together on site with a choice of hardware from companies such as Hillaldam Coburn, Henderson or Ellard. Although this method can still used today it is very time consuming to manufacture and install, expensive to construct and does not offer particularly good weather sealing properties. The automation of such a door system is also very difficult to certify to the latest safety standards whilst also being expensive.
The Vertico has been specifically designed as a remote control system as standard with emphasis on solving all previous shortfalls in round the corner garage door systems. Standard Equipment includes:
* Any size up to 5600 wide
* Requires only 50mm lintel headroom internally
* Only 130mm degree of radius at the corner to save lateral wall space.
* Superior surface stability
* Partial remote control opening option
* Purpose made to size as standard
* Motor guide channel integrated into wall guide channel
* Highest quality aluminium slats - double skinned, foam filled, insulated
* Radio remote control operation with electronic safety stop sensor
* Emergency unlocking from inside
* Courtesy light when door is opened switching off after a few minutes automatically
* All components high quality powder coated
* Top and bottom roller for smooth, silent operation
Technical Details
Click images to view larger
Vertico top and bottom track detail

Fixing can be to either the back face of the lintel or the ceiling depending on dimensions

Plan view of the Vertico garage door

The door can be specified to open in either direction and if there is not sufficient side room a false infill panel can be inserted
Call free on (0800) 525442 for further details, brochures and prices.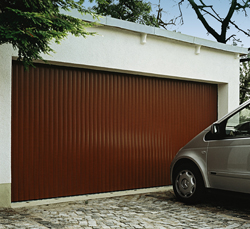 Summary on Vertico aluminium garage doors
Aluminium is the best possible metal for constructional products that are daily exposed to weather and that need to be light and at the same time sturdy. Therefore Vertico door systems consist mainly of aluminium components.
Aluminium is corrosion-free and the surface of Vertico aluminium garage doors are additionally coated by a high-quality thicklayer stove enamel.
Aluminium garage door profiles still offer further advantages:
CFC-free foaming: Advantage: silent run resonance-free torsion proof
Grooves in profile: Advantage: higher stability of profile and better optical characteristic
Absolutely colour and light fast: Advantage: no recoating colour brilliance for decades
Absolutely safe in function: Aluminium is a sturdy and weather proof metal. But it is all the same very light. The garage doors made of aluminium can always be operated without problems.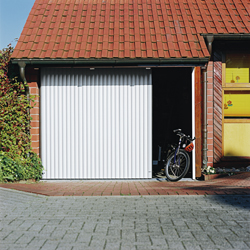 The Vertico garage door is the door for a modern day lifestyle with all the added benefits of reliable operation and security combined with stylish good looks and a range of colours and finished to compliment any home.
Call free now for up to date competitive prices or email your requirements
Freephone (0800) 525442
Vertico is made according to the new EU standards
Some things are just better made of aluminium
Looking for a timber Round the Corner doors? Click here >