Large Garage Doors | How big do you want your garage door opening to be?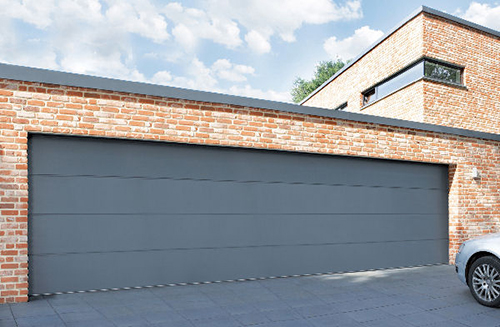 We have seen a marked increase since 2002 in the number of garage doors we are supplying over 5 metres wide, a size which used to be considered one of the largest available.
Increases in car ownership as well as a large increases in the sales of 4x4 vehicles have all contributed to the construction of triple sized and larger width garages. Triple garages normally require a garage door in the region of 6500mm wide or wider and if you are building to this sort of width then the height of the garage to keep a balanced visual appearance is normally higher than normal which for most garages is about 2200mm. This is where the problem of sourcing a suitable and functional garage door begins as you need a door which when open also provides the drive through width and height you set out to achieve in the first place.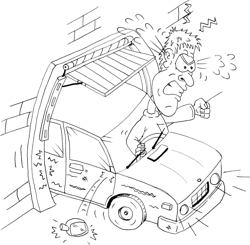 Many architects, builders and homeowners have worked out that a garage opening providing 6000mm of internal clear width space is ideal for just 2 cars to use and never really have to be careful about banging one car door against the other or the garage wall when opening.
A standard double garage door has been about 4300mm wide for years but we see for a fact that two medium to large sizes cars would struggle to use this width with ease and then certainly struggle to open the car door once in if another vehicle was inside and the garage had only standard sized piers.
The height of course has been just as much an issue with 4x4 vehicles and the fact that all one piece up and over garage doors hang down quite considerably when open meaning the 2134mm (7 foot) high door you purchased could quite easily only provide less then 2000mm of drive through height when open and the problem gets much worse the wider the door becomes, particularly with timber doors as the panel gets thicker and has bigger anti-sag supports fitted.
So, what are the solutions?
Well there are solutions and garage doors manufactured up to 20 metres wide and 5 metres high already but there are limitations in the types of operation you can use.

A very large 'Original Rundum Meir round the corner timber door system on a salt storage depot.

A pair of timber side sectional doors with glazed top sections in a factory colour finish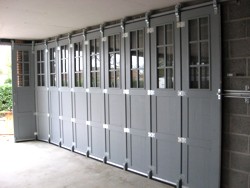 Inside view of the above timber door system with windows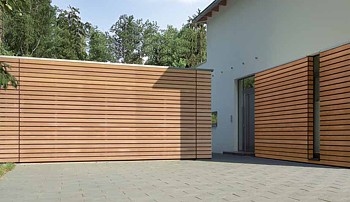 A Hormann ALR Vitraplan specialist sectional door system capable of taking bespoke timber designs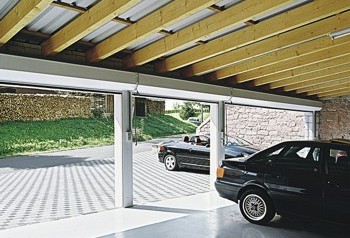 A triple garage with Seceuroglide insulated roller garage doors fitted with optional hood enclosures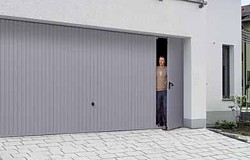 A Hormann DF98 double steel up and over one piece garage door with the optional pedestrian door feature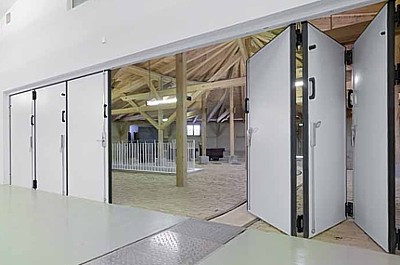 Insulated double skinned steel folding door system fitted between two large areas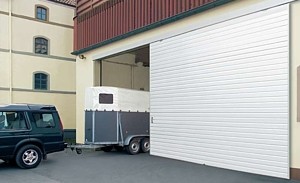 A one piece Hormann insulated sliding door system fitted to the outside of a large opening.
What operating mechanism is best for large garage doors?
The garage door operating type offering the largest size range is the round the corner garage door as the weight for this type of door is spread very evenly across the door and supported evenly across the lintel and walls inside the garage. This means that doors can be constructed in many diferent timber types as well as steel and aluminium and the panel weight is never a problem. The problems of panel distortion and warping are also eradicated as the doors are usually either vertical slats or individual panels (side sectional) therefore the individual slats or panels run on the shorter length of the height and are standing upright all the time so do not suffer from sagging under their own weight.
This example shows a 20 metre wide and 4 metre high round the corner system installed by us for Leicester Council on a salt store.
The door is a bi parting Rundum Original system constructed from timber sections and is also electrically operated, however even on manual override this door could be opened with ease, such is the even distribution of the door weight.
The Rundum round the corner garage doors are all made to order and have many options in timber types and steel or aluminium panel sections.
This picture is of a 10 metre wide timber 'side sectional' garage door meaning the individual panels are about 600mm wide sections each hinged to the next panel and all sliding around a tracking system on the lintel and floor. This particular door does have a central post to split the garage into two 5000mm wide openings
This is one of the side sectional door sections from inside the garage opening close to the side wall.
Sectional Garage Doors

Sectional garage doors are probably the second best option for large garage doors and all the sectional doors over 5000mm wide are constructed from double skinned steel panels with a 42mm depth and an inner foam filled core. Many different designs are available up to 6500mm wide and 2250mm high including the fantastic 'Decograin' finishes from Hormann in the LPU40 XXL range of doors. Door panels can be woodgrain embossed, smooth or even the micrograin finish and the colours available are enormous in almost any RAL paint finish.
Over 6500mm wide the choices become a little bit more limited and the headroom and side room requirements are larger as the operating mechanism used is actually the commercial specification. Sizes are available up to 8000mm wide however and 4000mm high with glazing options to choose if required.

Carteck (or Teckentrup) have a specific range of 'Super Size' sectional doors with all the necessary modifications and electric motor upratings alreadt sorted so the door is delivered with every necessary component. See the new colour PDF brochure online now >
Another innovation with sectional garage doors is the ability to blend in with the front elevation where timber or other more natural material may be used. You can specify the sectional door to have matching material affixed to the individual panels to blend in with the garage surroundings and this system uses extra powerful commercial specification gearing. See the example in the picture to the right with timber slats.
Roller garage doors in the main are manufactured up to about 5000mm wide and 3000m high for domestic use but can be made a lot larger if again the specification is upgraded to a commercial/industrial type but a lot of care has to be taken in making sure the safety features are correct for domestic use and the extra sizing required for the larger roll and guides are catered for.
As this picture shows on a very wide garage the roller shutter garage door is perfect for splitting the width into smaller openings with minimal instrusion from the columns seperating the doors, mainly as only 75-90mm is required for the guide for an insulated roller door.
Obviously when you split a garage into 2, 3 or 4 bays you do have more control over the heat loss and security of the garage and can assign designated bays for the different vehicle users.
Specialist Garage Doors
There are a number of specialised garage doors available for domestic use when any of the above are not suitable and they included the Hormann DF98 one piece up and over door system. The DF98 is primarily a steel box section chassis system with various standard infills in steel or timber but can also be purchased for the customer to infill the chassis with their own timber design. The door is available up to 5000mm wide and 2250mm high and does not suffer from any obvious panel deflection when open like many other timber or GRP garage doors do.
The picture third up on the right shows a DF98 style 902 vertical ribbed galvanised steel garage door with the optional pedestrian door inset into the main door panel. This is particularly useful as large doors need not be opened if this option is incorporated for pedestrian access.
This option is ideal on larger doors and other doors can have this feature - see below for the Silvelox details.
Sliding doors are also a very good readily available option for large garages with the same principal as the round the corner door applying in that the weight is evenly spread and the door panel(s) also cannot suffer from distortion anywhere near as easily as a one piece up and over door or indeed any door which opens with the door panels held up over your head.
This example of a large garage door shows a Hormann double skinned insulated folding door being used as a partition in a very large garage. The door panels are insulated and top hung meaning the door panels are very strong and there is no requirement for a floor mounted guide system which can cause a trip hazard.
Generally the bi folding doors are best supplied in steel or aluminium for stability and strength.
Rubber seals between all hinged parts also help to keep high levels of insulation form sound and temperature changes.
Windows are also available in either square or round designs and they are also double glazed sections.
This example shows a large one piece sliding garage door constructed from a double skinned steel panel hanging from a tracking system situated at the top of the opening and minimal equipment used at floor level to keep obstructions and trip hazards to a minimum.
The door can be mounted inside or outside the garage , depending upon space available.
Silvelox Large Garage Doors
are an Italian manufacturer producing the very highest quality and quite unique one piece 'up and over' garage doors constructed from timber with sizes available up to 6000mm wide and 3000mm high and use a counterbalance weight system to lift the door.
We have installed many Silvelox garage doors on very large garages and one of their truly original features is the concealed pedestrian access door. Having a pedestrian access door within a very large garage door does seem to offer many benefits, especially not having to open your enormous garage door every time you wish to access the garage.
The picture of the white doors shows two Silvelox garage doors closed with the pedestrian doors open for easy access into the garage. Security is not an issue with the Silvelox, the door panel is 80mm thick with shoot bolts and locking all integrated into the main door panel and the pedestrian door.
Alternatively have 4 good sized garage doors rather than 2 very large garage doors!
This image shows 4 Silvelox model FOR timber doors.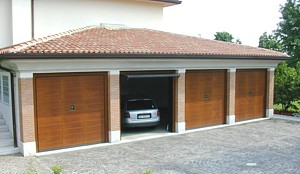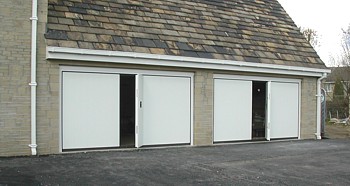 All these excellent examples of larger than standard garage doors are unbelievably available as either manual or electric operation. As manual doors they may well be quite hard to get moving initially but the mechanisms generally are very smooth at any size which is testimony to the quality of the components and design of the tracking and hinges used. When the doors are remote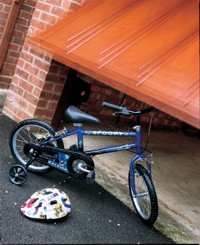 controlled safety is the primary concern due to the potential crushing power of such enormous doors and all the doors have an auot reverse facility to kick in when an obstruction is met and some use a sensor system which covers the entire leading edge of the door panel. It is essential that the correct motor system is specified for any of these garage doors not only for safety but for long term, trouble free useage.