Guide to Buying Side Hinged Doors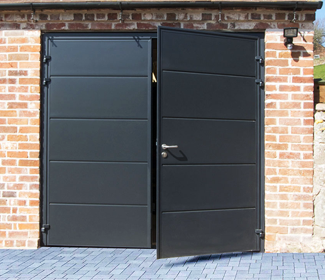 Side Hinged, or 'swing' garage doors, are still one of the most commonly searched for garage door types in the UK. The demand for this type of garage door has seen a resurgence recently with so many people not using their garages for vehicle storage. The garage is now so often used as an additional room that requires easier access, insulation, good security and natural light. The average garage is being used for storage, with the contents often consisting of valuable items, and perhaps not ever efficiently insured either.
Many garages are also being used as a workshop, gym, office, playroom and numerous other uses. This means the garage door is required for security and occasional pedestrian access. In the case of a mews style house, very common in Central London, the garage door is frequently used as the main entrance into the property. The door needs to perform as expected for this.
Side hinged garage doors, or 'swing doors', can only ever be as good as the sum of the components used. A quality door requires a sturdy pair of door panels, sturdy hinges, strong fixing sub frame and good recognised approved locking and furniture.
The range of side hinged garage doors we offer today is better than ever before. They offer effortless operation, easy access, and when specified correctly, offer superb weather sealing. Plus, the number of moving parts is very few, meaning little maintenance is required.
The absence of internal tracking or mechanisms allows you to totally utilise your garage space, whether that be for vehicles or storage.
A simple lever handle and cylinder lock will be smooth and easy to operate for anyone with back, neck, hand, or arm issues.

Timber
Traditionally, most people will think of side hinged garage doors being constructed from timber. We have a huge selection of designs and timber species available as standard and bespoke designs. We offer Cedarwood, Idigbo, Iroko, Larch, Accoya and European Oak timber species for your home. Cedar wood has perhaps been pne of the popular timbers for many years but the recent price increases have made this timber comparable to other hardwoods which are far more durable.
The doors we offer are generally only manufactured in a traditional method offering a good solid panel build and factory finishes to ensure the best longevity.
Most timber side hinged doors are made to measure at no extra cost.
Note: unsorted redwood and pine is a low priced, unstable softwood timber used for side hinged doors. It has very high rates of failure after a short period as it is not stable with the variations in air moisture in the UK. The price differences when looking at these doors in isolation on various websites may seem enormous. However, the price adds up when you begin to add in hidden extras required such as the sub frame, hinges, hardware, locking and final finishing of the doors, most of which is standard with many of the hinged doors we supply. Check the differences carefully! 'Buy cheap, buy twice' is particularly applicable to timber products...
Steel
If you are looking for a garage door that offers good levels of security and insulation, double skinned steel doors are the ultimate choice.
The modern construction of double skinned steel doors are highly advantageous.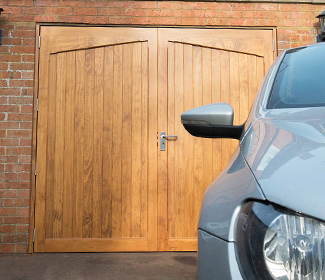 They are manufactued with a foam-filled, 40mm thick insulated core, offering great strength and therefore overall security when locked. These insulated doors offer components at much higher levels than most other doors as they have to deal with heavier panels. The hinges are stronger and the locking mechanisms used are usually far superior as the panel depth can take the mechanics of far more robust locking systems.
We also offer a range of insulated personnel side doors in the same construction to complete the visual appearance, security and insulation of your garage. These are in a standard or purpose made range of sizes.

Pressed single skin steel side hinged doors are also offered and readily available in several standard designs and sizes as well as purpose made sizes too. Again, they are best when purchased as a complete set with the outer fixing frame already fitted and prepared with the hinges and locks in place..
GRP
GRP or fibreglass is also a great material that offers strength and stability for side hinged garage doors. There are some great designs produced using a mould from an original timber door design, with the limits only being the imagination.
Our range of GRP side hinged garage doors are very low maintenance, yet look offer the true warmth and appearance of timber colours and graining.
Again, like the steel side hinged doors steel fixing sub frames are normal with GRP doors and therefore offer greater stability and strength in the overall product.

Generally, side hinged doors manufactured in steel, timber or GRP are produced up to around 8 feet (2438mm) wide, and around 7'6" (2286mm) high. We can offer hinged doors up to 10 feet (3038mm) wide but in limited styles and specifications.
The doors can be made much larger, but with limitations on the design. For larger doors, the timber species used must be considered as the weight and strength becomes more important, as well as the hinges and fixing sub frame used to support the doors when fitted.
Nearly all high quality hinged garage doors are made to order in the UK, although there are some standard sizes available for better pricing where standard sizes can be used.
Be aware of the ordering sizes as some hinged doors are ordered by the sizes between the fixing sub frame, and some include the sub frame as well, making the width and height greater. Check before ordering to make sure you get what you require.

All side hinged garage doors require a fixing sub frame, and these are normally either steel, aluminium or timber box sections in a 'goal post' arrangement. In most cases, a timber sub frame is a nominal 70mm x 70mm, but a 90mm depth is generally preferred to enable a decent 'door stop'. These are included for weathersealing, and the thicker sections also provide additional strength. In steel construction, the frame is usually between 50 and 70mm wide and varies in depth.
The sub frame is required for fixing the hinges, weather seals, a proper stop for the door panels to hold against when closed, squaring up the structural opening and making the doors work in the best possible way with the best sealing possible.
Most people want the door panels and the fixing sub frame to match each other in finish and colour, especially if the requirement was for a lighter stained finish. Mixing and matching timber species will not usually work very well.
The galvanised steel box section sub frames have great stability and strength to enable the use of uprated locking systems in the doors they a supplied with.
Steel and aluminium frames are generally powder coated in a colour finish to match or contrast the main door panels. Some steel frames can also be clad in a matching timber to the main door panels.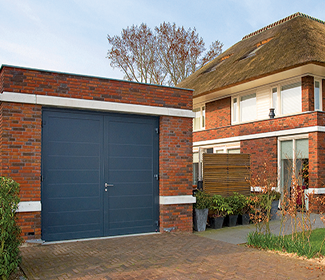 Security on a pair of side hinged doors can be very good indeed, but only if the main door panels are strong enough in their construction, as well as the surrounding sub frame used.
Improved Security
The double skinned insulated steel doors we supply from Carteck, Ryterna and Hormann all offer good levels of security, with three and four point locking upgrades available. The construction of these steel doors allows far more robust locking mechanisms to be built-in and combined with double rebated edges, and with a super strong sub frame the overall result is a very secure set of doors.
Timber and fibreglass GRP doors can also be secure if uprated locking systems are specified and they are installed with a proper steel or hardwood timber sub frame.
The security can be repeated in the pedestrian hinged doors of course as they use exactly the same principals as the double hinged doors in all ways.
Certified Security
If you require true, tested security, we have a range of steel side hinged garage doors that are certified with UK security ratings.
Look towards doors which have been 3rd party tested and have a certification to give a rating. You can readily buy hinged doors which are SR1 and SR2 certified and we can offer higher if required but with more limted designs and sizes. The Teckentrup 62-2 Swing Secure are perhaps the most readily availabe domestic hinged doors with ratings far higher than other doors in the UK.
Our security side hinged garage doors can be specified with various ratings recognised by UK Police and insurance companies. Such certifications include Secured by Design, RC ratings, LPS1175.
Note: Cheaper softwood or low quality single skin steel side hinged doors can never be very secure. The panels themselves can be forced and bent outwards relatively easily making any type of locking relatively useless to the determined intruder. Think carefully about the security as add-on locks can be clumsy and difficult to install as an after thought.
Consider how windows could impact security with an open view into your garage.

Research side hinged garage doors thoroughly to ensure you make a good investment. A cheap pair of doors in low grade softwood timber will only last you a very short time before needing replacement. The same with low quality steel doors too, many bold claims on multi point locking and high security but any multi point locking system can only ever be as good as the locking which is ultimately holding it all. 10 point, 20 point locking all going back to a low grade lock is a waste of time.. 3 point locking is usually quite sufficient for high security when done properly.
A proper set of high quality timber, steel or GRP hinged doors will last for many, many years indeed.