Individual tastes can be catered for with many different types of garage doors, whether it be to match another entrance or side door or just blend in with the architectural features or colours of a home, we can provide a solution.
Design your own garage door from a blank canvas in composite timber or simply add designer elements to a basic steel design to individualise the door. Choose from some stunning contemporary designs with entrance doors to match and choose glazing, colours and furniture to make it your own.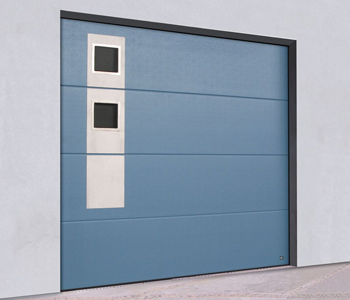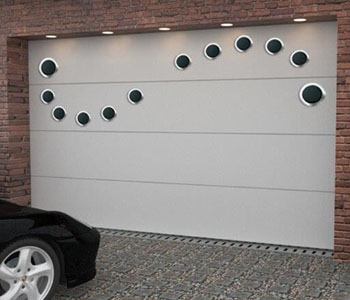 Facade Sectional Garage Doors
Hormann have a superb solution for a garage door that completely blends into its surroundings, the facade sectional garage door. This garage door is based on their tried and tested commercial specification ALR40 sectional door with increased strength and springing mechanisms to take the weight of many different applied materials to the face.
The door can be manual or remote control operated and is made to order in sizes up to 6000mm wide and 3000mm high.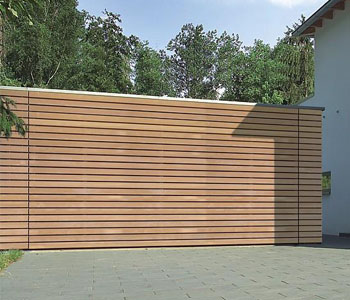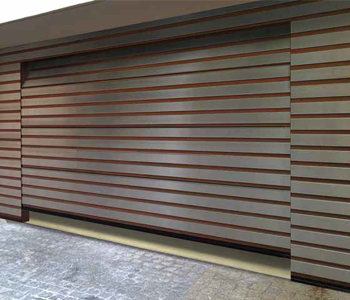 Using timber, aluminium and other materials that have been used on the fabric of the building stunning effects can be created and you still have a fully operational door system to open up the whole entrance with minimal intrusion to the sides and headroom.
Hormann also have a vast range of traditional up and over garage doors from their N80 and DF98 European range that give the capability of applying different materials to achieve the same effect of blending the garage door to the surroundings. Again these can be made to order and include everything you need except the cladding material.
Matching Garage and Entrance Doors
The Garage Door Centre is proud to be a main specialist distributor of the Hormann aluminium and steel entrance doors as this has given us a vast range of doors that blend or match exactly the garage doors we have been selling now since 1986. The 2 ranges - Thermopro and TOP offer the very highest quality in engineering with standard and purpose made sizes and side and top transom glazing elements for total flexibility in installation and specification to ensure individual tastes are always catered for.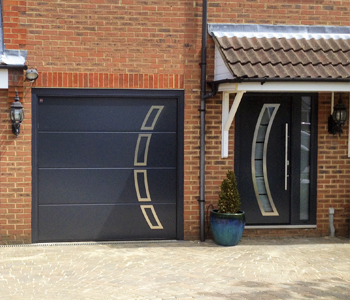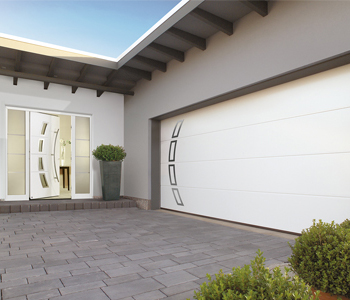 Special Design Timber Doors
Almost any design can be routed into the front face of a timber sectional garage door. Using the latest state of the art routing machinery and the highest quality composite timber panels you can specify your design, the factory will confirm the design with a CAD drawing and then produce the design in the door. These doors are generally available up to 5000mm wide and 2375mm high in standard or purpose made sizes and in several timber species from Nordic Pine, Hemlock, Larch and European Oak to name a few.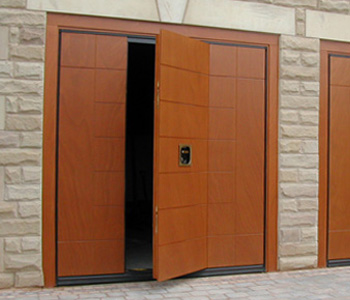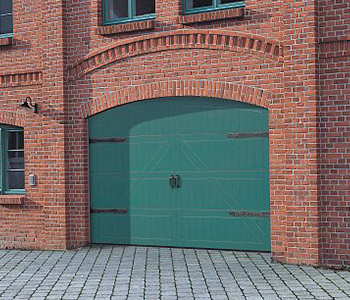 Design Elements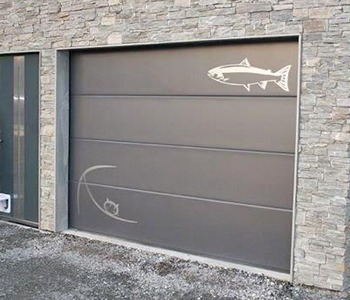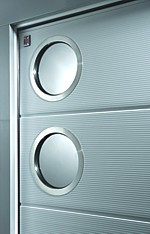 Many manufacturers now extensively use stainless steel in combination with various glazing sections in twin walled polycarbonate for garage doors in most cases and triple glazed toughened glass with a massive choice of finishes for the entrance and side doors.

The actual finish of the front face of the door panels are also a big focus with the woodgrain embossed finishes ever as popular but the smooth silkgrain or even ridged 'micrograin' finishes becoming very popular on many types of property.
The colour choices have been vast for many years but only recently did the extensive use of very tough laminate surface finishes occur with woodgrain effects first and then very recently finishes such as 'Titan Metallic' - a very slightly glittery metal effect finish which is very popular and will compliment many types of property, old and new.
It seems right now one of the driving forces in home design is 'simple and plain' and our sales of non patterned, totally smooth sectional doors has risen dramatically this year (2011). The focus is all on getting the colour correct and not much else apart from a timeless plain panel finish, and there are plenty of options believe it or not with very subtle differences.