Buying Garage Doors Online

Buying Garage Doors Online
Who are you are actually buying from?
There are so many websites selling garage doors that have barely any of their details on display; many list a private house address in an attempt to sell garage doors on price alone, with little or no experience, as well as no back-up in the event of a problem occurs.
Here at The Garage Door Centre however, we will always encourage you to pick up the phone to talk to us or, even better, come to see us at our Northamptonshire showroom, based in Wellingborough.
Our showroom has the most variety of any garage door showroom in the UK, and allows you to browse our products at your leisure with our experienced team on-hand for any help and advice that you require.
What are your requirements?
So that you know that the garage door you are quoted for in the one that you need and is right for you, ensure that you are aware of the full details of your requirements. Most garage doors are now available made to order with so many options, some are necessary and some are not. So, the real issue for you, as the consumer, is to know exactly what you are ordering and paying for.
For example, we can supply an up and over timber garage door for as little as £350, or as much as for the same 7' x 7' opening size! What a difference for something that, maybe at a quick glance, looks similar in design!
The difference between two garage doors is clear if you can see them with your own eyes, but in a colour brochure there may not appear to be that much to indicate why there may
The difference between two garage doors is clear if you can see them with your own eyes, but in a colour brochure it is not always apparent as to why there is a significant difference between two doors. The Garage Door Centre will always ensure that you get what is right for you and your needs.
As every manufacturer has a slightly different overall door panel and frame size for their particular garage door, you can easily order a heavily discounted stock sized garage door, only to find the overall dimensions, with the fixing frame included, will not fit your existing garage opening. This applies to guide sizes and headroom requirements on different roller garage doors and sectional doors, hinge sizes on side hinged garage doors and reveal sizes on round the corner doors - they are all different depending on the manufacturer!

How To Get Prices and Order From The Garage Door Centre
Email or call us directly with some sizes and ideas on (0800) 525 442. Providing we have sufficient information we can give you budget prices.
You can then proceed to a survey being carried out to check the sizes and specification; we can then re-confirm the price, order the door, and deliver or install as soon as possible.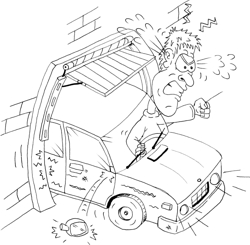 The Garage Door Centre was established in 1986 – and many of our members of staff, including surveyors, engineers and sales staff, have been with us for many of those 30 years. The longevity of our experience in the industry means that our staff have a wealth of knowledge, covering all types of garage doors.
Everyone will tell you that their garage door is the best, but how can you really know if you have never purchased a garage door before?
If you are looking for an honest and unbiased opinion on any type of garage door, someone at The Garage Door Centre will always be able to help you with any particular requirements that you may have, no matter how large or small it may be. Remember – we supply over 10,000 garage doors a year for every type of property that you can imagine.
Although we offer you various methods of contact via our website, one of the best communication techniques is still the simplest, and it only involves picking up the telephone to explain your requirements to us.
We will always try to price match any genuine quotation you may have had, and indeed beat it if possible, but will always ensure you get the right garage door specification for your requirements.
If you would prefer to fill in a form, visit our Contact Us page; you can add photographs and dimensions for a more accurate appraisal and quotation.
Head Office Details
Direct Sales: (01933) 229135
Fax number: (01933) 442676
Email Address: enquiries@thegaragedoorcentre.co.uk
Your enquiry will always be passed on to the person with the best knowledge on your particular requirements.
Free Online Garage Door Quotation Service >