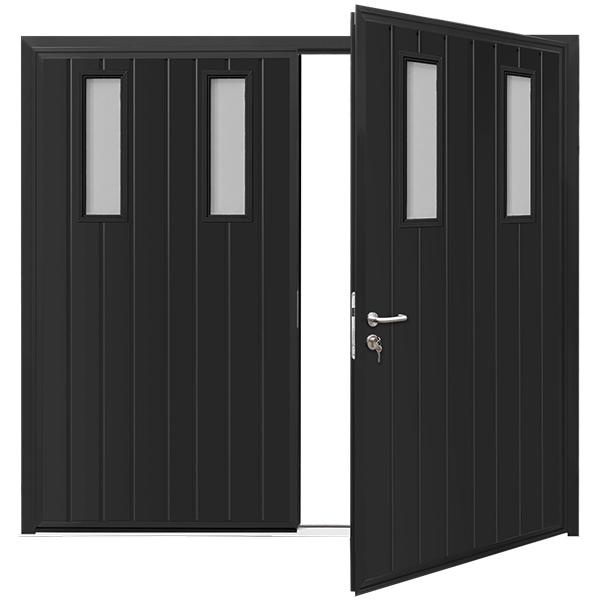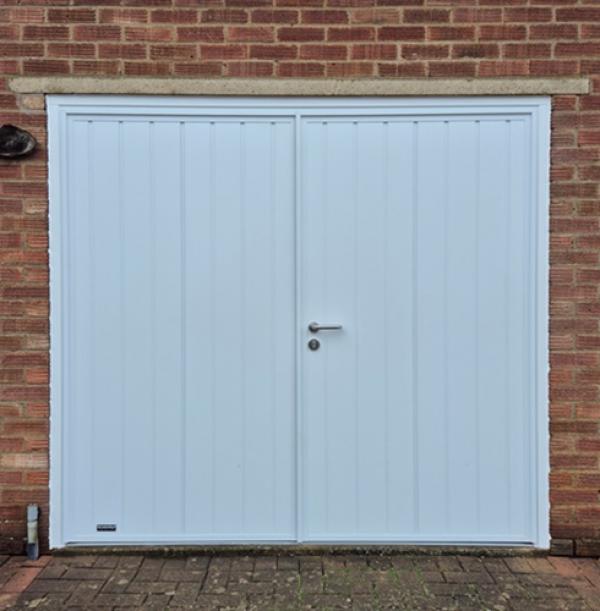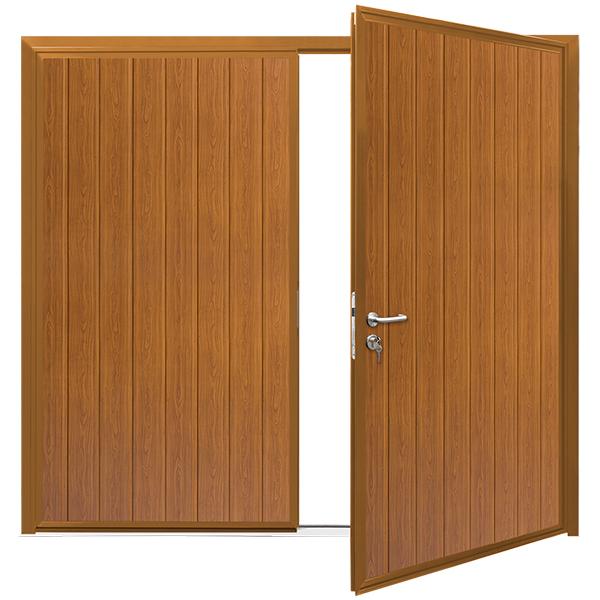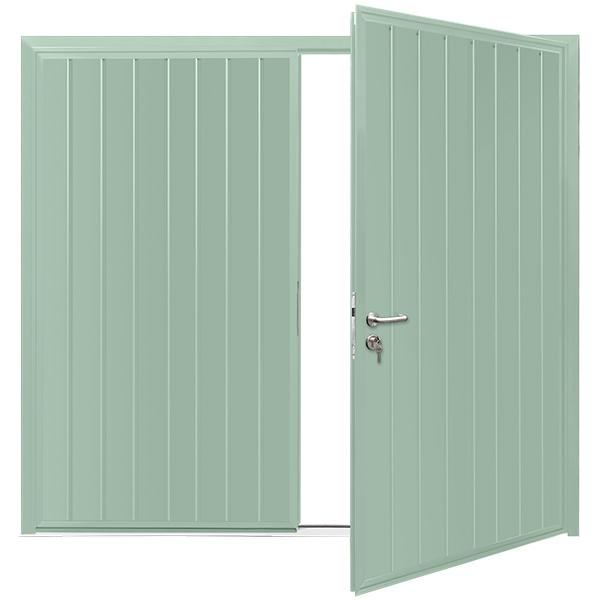 Teckentrup Standard Ribbed Vertical
Teckentrup's insulating side hinged garage door in their standard ribbed design.
To make an enquiry about this product, please click the button "Make an enquiry" below this message, or call 0800 525 442
description
wood design
colour finishes
Coach Style Designs
Mock-Leaded Window Design
Teckentrup side hinged and personnel doors are quite simply the very best. The solid panels, engineered frames and high grade fittings result in a door that closes with a reassuringly deep "clunk".
Security is excellent and the range of styles, finishes and windows allows personalisation to suit your tastes. 1/2 and 1/2 opening and asymmetric configurations further increase versatility.
Doors are built with 40mm thick interlocking panels that insulate and reduce sound transmission. The mitred door leaf frame and door frame are finished in a matching smooth finish for white, Trend and RAL coloured doors and a complimentary flat colour for Golden Oak (RAL8003), Rosewood (RAL8016) and Dark Oak (RAL8014) wood grain effect finishes.
The inside of the door is very presentable. There are no unsightly bracings just a wipe clean surface finished in a practical grey white stucco texture (RAL 9002).
High quality hinges
Aluminium hinges with secured hinge bolts make it extremely difficult to lever open the door and are easily adjusted. 2 or 3 hinges are fitted to each leaf dependent on size.
Door stays
Protecting your door from slam closure on windy days, these top grade, spring dampened stays hold the door securely in the open position. A simple de-latch motion releases the held door leaf.
Double weather strips & mitred corners
In addition to the circumferential weather strip around the door leaf, the door frame has a three-sided weather strip for excellent draught reduction. Profiles are mitre jointed for a neat finish.
Lipped Threshold
For an improved weather protection a stepped aluminium threshold with a bulb weather strip is available as an optional extra. The door leaves close against the raised weather strip creating an improved barrier to dust and debris. The threshold includes a thermal break reducing heat transfer.
Standard Threshold
The aluminium profile supplied as standard provides a simple low profile threshold.
Flush bolt security
The inactive leaf is secured with flush bolts to the top and bottom of the leaf. The picture also shows the rot proof floor weather strip.
Stainless steel handles & Security Locking
High grade stainless steel handles and lock covers are tough and attractive, whilst the latch and dead bolt combination provides dependable security. If you have a specific hardware requirement, talk to us as alternative designs can often be accommodated.
Triple Point Locking Option
The active leaf is available with three point locking for greatly enhanced security. The locks link the active and inactive door leaves together to combat attempts to force them apart.
---
Please note: "Price from" figure is for a white door with basic spec. and local mileage.
Wood Design
The woodgrain effect laminates are applied to the steel during the rolling process at the steel mill and provide a high performance finish with the look of timber.
The wood effect shades will sit alongside wooden architecture harmoniously, but are resistant, durable and easy to maintain. A UV-resistant surface provides long-lasting protection from weather conditions.
| | | | |
| --- | --- | --- | --- |
| Golden Oak | Rosewood | Winchester | Night Oak |
Trend colours are selected shades that have generally come to be considered as the most popular colours for garage doors. The colours are held as coated steel from which door panels are made to order. If the colour you require is not available as a Trend colour, we are able to coat our standard panels to a RAL colour. For doors coloured in this way, doors are made and cut to size from white panels and then sprayed to the required colour.
| | | | |
| --- | --- | --- | --- |
| White | Quartz Grey | Grey Aluminium | White Aluminium |
| Sepia Brown | Window Grey | Light Grey | Anthracite |
| Fir Green | Moss Green | Flame Red | Steel Blue |
| Jet Black | Cream White | | |
You are currently exploring the Standard Ribbed Vertical model in the Product Catalogue. Please note that the Coach House features below are demonstrated on the Solid Ribbed Horizontal design.
Whilst Teckentrup side hinged doors are constructed with insulating, double-skinned steel, they are still able to convey a classic aesthetic.
These fantastic side hinged doors can be equipped with mock Coach House style hinges to provide a door with modern features, whilst achieving a traditional look.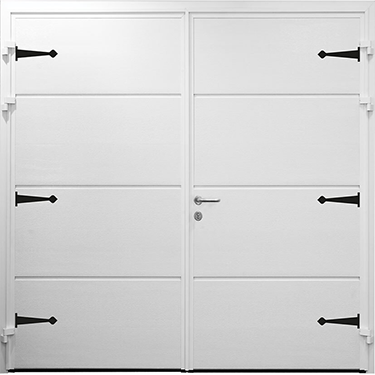 Teckentrup side hinged in Solid design with Coach House style mock hinges.
Standard ribbed vertical side hinged with mock-leaded window design.